65th Azalea Amateur
March 18,19,20 2022
Limited to 200 players
__________________________________________________________________________________________________________________________

Florida Azalea Amateur
The 64th Annual Florida Azalea Amateur Tournament March 19 – 21, 2021
| | | | | | | | | | | |
| --- | --- | --- | --- | --- | --- | --- | --- | --- | --- | --- |
| | | | | | | R1 | R2 | R3 | T | |
| 1 | C | Hitchner | Tyler | Tuscaloosa | AL | 66 | 71 | 69 | 206 | 500 |
| 2 | C | Mattiace | Michael | Jacksonville | FL | 71 | 65 | 70 | 206 | 450 |
| 3 | C | Duff | Jason | St. Augustine | FL | 71 | 72 | 67 | 210 | 400 |
| 4 | C | Han | Nathan | Somers | NY | 67 | 73 | 71 | 211 | 375 |
| 5 | C | Mays | Michael | Winter Park | FL | 68 | 73 | 71 | 212 | 325 |
| 5 | C | Johnson | Trenton | Knoxville | TN | 70 | 72 | 70 | 212 | 325 |
| 7 | C | Baker | Brantley | Leesburg | GA | 67 | 77 | 69 | 213 | 295 |
| 7 | C | Iturra | Juan | St. Augustine | FL | 70 | 76 | 67 | 213 | 295 |
| 9 | C | Tankersley | Camron | Dickson | TN | 74 | 70 | 70 | 214 | 275 |
| 9 | C | Albright | Gray | Ocala | FL | 70 | 75 | 69 | 214 | 275 |
| 11 | C | Langille | Jud | Ossining | NY | 67 | 76 | 73 | 216 | 260 |
| 12 | C | Tesori | Paul | St. Augustine | FL | 71 | 71 | 75 | 217 | 240 |
| 12 | C | Hernandez | Devin | St. Petersburg | FL | 72 | 76 | 69 | 217 | 240 |
| 12 | C | Doody | Jack | Columbus | OH | 78 | 71 | 68 | 217 | 240 |
| 15 | C | Hunter | John | Spring | TX | 73 | 71 | 74 | 218 | 200 |
| 15 | C | Puri | Arjun | India | | 75 | 70 | 73 | 218 | 200 |
| 15 | C | Hunneke | Hayden | Chattanooga | TN | 71 | 75 | 72 | 218 | 200 |
| 15 | C | Comstock | Jack | Jacksonville | FL | 71 | 75 | 72 | 218 | 200 |
| 15 | C | Bishop | James | Palm Beach | FL | 73 | 76 | 69 | 218 | 200 |
| 20 | C | Garre | Carlos | Murcia | Spain | 73 | 71 | 75 | 219 | 140 |
| 20 | C | Walsh | Michael | Shelburne | VT | 72 | 73 | 74 | 219 | 140 |
| 20 | C | Dales | Jimmy | Northville | MI | 74 | 73 | 72 | 219 | 140 |
| 20 | C | Kilburn | Perry Austin | Monroe | GA | 78 | 70 | 71 | 219 | 140 |
| 20 | C | Grinberg | Lev | Reunion | FL | 74 | 74 | 71 | 219 | 140 |
| 20 | C | Yates | Lance | Baton Rouge | LA | 79 | 72 | 68 | 219 | 140 |
| 26 | C | Fromme | Sean | Palm Harbor | FL | 72 | 74 | 74 | 220 | 38 |
| 26 | C | Surtani | Nels | Noblesville | IN | 70 | 76 | 74 | 220 | 38 |
| 26 | C | Fretty | Jackson | Cos Cob | CT | 73 | 74 | 73 | 220 | 38 |
| 26 | C | Hofman | Nicholas | Lafaytte | IN | 73 | 74 | 73 | 220 | 38 |
| 26 | C | Vogt | Matt | Indianapolis | IN | 74 | 73 | 73 | 220 | 38 |
| 26 | C | Carpenter | Ben | Darien | CT | 71 | 77 | 72 | 220 | 38 |
| 26 | C | Denis | Hugo | France | | 74 | 75 | 71 | 220 | 38 |
| | C | Holcroft | Connor | St. Augustine | FL | 70 | 74 | 77 | 221 | |
| | C | Ibbotson | Chad | Sanford | FL | 72 | 77 | 72 | 221 | |
| | C | Brantley | Blake | Winston Salem | NC | 72 | 77 | 72 | 221 | |
| | C | Lanza | Tyler | New Milford | CT | 76 | 73 | 72 | 221 | |
| | C | Steiner | Jason | Fort Mill | SC | 72 | 78 | 71 | 221 | |
| | C | Hogan | Sam | Burlington | ON | 71 | 78 | 73 | 222 | |
| | C | Haghani | Mark | Wilson | WY | 72 | 76 | 75 | 223 | |
| | C | Russell | Cade | Knoxville | TN | 72 | 77 | 75 | 224 | |
| | C | Albright | Steve | Ocala | FL | 74 | 78 | 72 | 224 | |
| | C | Grondahl | Justin | Jupiter | FL | 72 | 74 | 79 | 225 | |
| | C | Mosby | Nate | Jacksonville | FL | 74 | 74 | 77 | 225 | |
| | C | Belcastro | Conner | Rowayton | CT | 73 | 77 | 75 | 225 | |
| | C | Beck | Marcus | Tallahassee | FL | 69 | 82 | 74 | 225 | |
| | C | Montalvo | Daniel | Champions Gate | FL | 75 | 76 | 74 | 225 | |
| | C | Kennedy | Campbell | Green Cove Spr. | FL | 71 | 79 | 75 | 225 | |
| | C | Bekkers | Flint | Freeport | FL | 74 | 71 | 81 | 226 | |
| | C | Rojas | Nicholas | Windermere | FL | 71 | 75 | 80 | 226 | |
| | C | Vermut | Adam | Jacksonville | FL | 74 | 75 | 77 | 226 | |
| | C | Di Tullio | Adamo | Fort Lauderdale | FL | 76 | 74 | 76 | 226 | |
| | C | Camps | Derek | Lake Mary | FL | 75 | 76 | 75 | 226 | |
| | C | Chahal | Devan | Parkland | FL | 77 | 74 | 75 | 226 | |
| | C | Lonsdale | Charles | Green Cove Springs | FL | 75 | 76 | 75 | 226 | |
| | C | Dubiel | Henry | Juno Beach | FL | 75 | 77 | 74 | 226 | |
| | C | Tureskis | James | Naples | FL | 76 | 76 | 74 | 226 | |
| | C | Morrison | Garrett | St. Cloud | FL | 71 | 73 | 83 | 227 | |
| | C | Mitchell | Matt | White Bluff | TN | 76 | 72 | 79 | 227 | |
| | C | Sampselle | Jay | Palm Coast | FL | 77 | 73 | 77 | 227 | |
| | C | Schwab | Mitchell | West Port | CT | 74 | 77 | 76 | 227 | |
| | C | Tangyingyong | Sutanit | Jacksonville | FL | 74 | 77 | 76 | 227 | |
| | C | Anderson | Christopher | Maitland | FL | 76 | 74 | 78 | 228 | |
| | C | Cox | Scott | Ellenton | FL | 70 | 80 | 78 | 228 | |
| | C | Charpentier | Louis-Francois | Montreal | CN | 76 | 75 | 77 | 228 | |
| | C | Zaccheo | Isaiah | Ft. Meyers | FL | 74 | 78 | 76 | 228 | |
| | C | Barr | Anthony | Harleysville | PA | 74 | 76 | 79 | 229 | |
| | C | Bischofberger | Robert | Sarasota | FL | 79 | 72 | 78 | 229 | |
| | C | Vitels | Mark | Garden City | NY | 76 | 76 | 79 | 231 | |
| | C | Luc | Michael | Nashville | TN | 71 | 78 | NC | NC | |
| | C | Flores | Logan | St. Augustine | FL | 74 | 75 | NC | NC | |
| | C | Lanning | Chris | Murfreesboro | TN | 73 | 77 | WD | WD | |
| | C | Kennedy | Frank | Tequesta | FL | 75 | 77 | WD | WD | |
| | C | Gollwitzer | John | Long Grove | IL | 77 | 75 | WD | WD | |
| MC | C | Capps | Ty | Palm Coast | FL | 74 | 79 | | 153 | |
| MC | C | Christensen 111 | Thomas | Coral Springs | FL | 75 | 78 | | 153 | |
| MC | C | Ditty | Drew | Ocala | FL | 71 | 82 | | 153 | |
| MC | C | Ebanks | Jordan | St. Augustine | FL | 71 | 82 | | 153 | |
| MC | C | Prall | Luke | Carmel | IN | 73 | 80 | | 153 | |
| MC | C | Robinette | Preston | Jonesborough | TN | 77 | 76 | | 153 | |
| MC | C | Alfieri | Cade | Lutz | FL | 76 | 77 | | 153 | |
| MC | C | Davis | Sam | Jacksonville | FL | 77 | 76 | | 153 | |
| MC | C | Filler | Michael | Towson | MD | 77 | 76 | | 153 | |
| MC | C | Core | Daniel | Sorrento | FL | 77 | 77 | | 154 | |
| MC | C | Falzone | Rosario | Nashville | TN | 76 | 78 | | 154 | |
| MC | C | Joseph | John | Valdosta | GA | 74 | 80 | | 154 | |
| MC | C | McCabe | James | Atlanta | GA | 79 | 75 | | 154 | |
| MC | C | Smith | Cooper | Tampa | FL | 75 | 79 | | 154 | |
| MC | C | Condello | Chris | Windermere | FL | 73 | 81 | | 154 | |
| MC | C | Elliott | Tim | Glen Arm | MD | 74 | 80 | | 154 | |
| MC | C | Condello | Jeff | Windermere | FL | 76 | 78 | | 154 | |
| MC | C | Labanauskas | Andy | Atlanta | GA | 76 | 78 | | 154 | |
| MC | C | Ariza | Matthew | Naples | FL | 76 | 79 | | 155 | |
| MC | C | Compaan | Moses | Jacksonville | FL | 78 | 77 | | 155 | |
| MC | C | Jensen | Connor | Waconia | MN | 77 | 78 | | 155 | |
| MC | C | Solomon | Chris | Jacksonville | FL | 77 | 78 | | 155 | |
| MC | C | Neel | Logan | Jacksonville | FL | 76 | 79 | | 155 | |
| MC | C | Bundy | Charlie | Betheda | MD | 77 | 79 | | 156 | |
| MC | C | Cleaves | Tyler | Kaukauna | WI | 80 | 76 | | 156 | |
| MC | C | Clough | Chris | Jacksonville | FL | 78 | 78 | | 156 | |
| MC | C | Griffin | Cooper | Boston | MA | 79 | 77 | | 156 | |
| MC | C | Harper | Nolan | St. Augustine | FL | 76 | 80 | | 156 | |
| MC | C | Milton | John | Jacksonville | FL | 77 | 79 | | 156 | |
| MC | C | O'Neill | William | Vero beach | FL | 72 | 84 | | 156 | |
| MC | C | Shrewsbury | William | Jacksonville | FL | 80 | 76 | | 156 | |
| MC | C | Slayden | Lucas | Ponte Vedra Beach | FL | 79 | 77 | | 156 | |
| MC | C | Slayden | Spencer | Ponte Vedra Beach | FL | 79 | 77 | | 156 | |
| MC | C | Suman | Henry | Houston | TX | 76 | 80 | | 156 | |
| MC | C | Terzian | Chris | Gainsville | FL | 74 | 82 | | 156 | |
| MC | C | Luczac | Jake | St. Johns | FL | 80 | 76 | | 156 | |
| MC | C | Ritto | Brett | Daytona Beach | FL | 81 | 75 | | 156 | |
| MC | C | Bell | Parker | Tallahassee | FL | 79 | 78 | | 157 | |
| MC | C | French | Matthew | Orange Park | FL | 78 | 79 | | 157 | |
| MC | C | Luna | Santiago | Bogota | COL | 78 | 79 | | 157 | |
| MC | C | Thuraisangham | Chasen | Parkland | FL | 78 | 79 | | 157 | |
| MC | C | Zuboz | Egor | Champions Gate | FL | 81 | 76 | | 157 | |
| MC | C | Simmons | Tim | Evansville | IN | 75 | 82 | | 157 | |
| MC | C | Haas | Jake | Gainsville | FL | 77 | 81 | | 158 | |
| MC | C | Healy | Patrick | Centerport | NY | 80 | 78 | | 158 | |
| MC | C | McCracken | Bryce | Trophy Club | TX | 78 | 80 | | 158 | |
| MC | C | Lausier | Teddy | Gainsville | FL | 80 | 78 | | 158 | |
| MC | C | Kim | Charlie | Gainsville | FL | 82 | 77 | | 159 | |
| MC | C | Kuhn | BJ | Ft Meyers | FL | 77 | 82 | | 159 | |
| MC | C | Robinson | Jon Wesley | Tuscallosa | OK | 80 | 79 | | 159 | |
| MC | C | Adkison | Bryan | Boston | MA | 80 | 80 | | 160 | |
| MC | C | Francey | DJ | Weston | FL | 80 | 80 | | 160 | |
| MC | C | Rodas | Rodrigo | Guatemala | | 80 | 80 | | 160 | |
| MC | C | Lynn | Kevin | Fort Lauderdale | FL | 78 | 82 | | 160 | |
| MC | C | Raymond | Jackson | Tampa | FL | 78 | 82 | | 160 | |
| MC | C | Beaver | Scott | Pace | FL | 79 | 82 | | 161 | |
| MC | C | Bell | Taylor | Tallahassee | FL | 84 | 77 | | 161 | |
| MC | C | Houchin | Chad | Evensville | IN | 78 | 83 | | 161 | |
| MC | C | Loftin | Jim | St. Augustine | FL | 81 | 80 | | 161 | |
| MC | C | Grove | Jay | Nolensville | TN | 77 | 85 | | 162 | |
| MC | C | Gruenberg | Joshua | Andover | MA | 83 | 79 | | 162 | |
| MC | C | Kozlowski | Ryan | Palm Harbor | FL | 80 | 82 | | 162 | |
| MC | C | McNulty | Colson | Aiken | SC | 84 | 78 | | 162 | |
| MC | C | Siegel | Benton | Ft Laudedale | FL | 82 | 81 | | 163 | |
| MC | C | Thomas | Scott | Orange Park | FL | 83 | 80 | | 163 | |
| MC | C | Luce | Zack | Cresent City | FL | 78 | 86 | | 164 | |
| MC | C | Sampedro | Dominic | Leesburg | VA | 81 | 83 | | 164 | |
| MC | C | Musselman | Bobby | St. Petersburg | FL | 79 | 85 | | 164 | |
| MC | C | Fleetwood | Keith | East Palatka | FL | 80 | 84 | | 164 | |
| MC | C | Spofford | Ray | Palatka | FL | 83 | 81 | | 164 | |
| MC | C | James | Chad | St. Augustine | FL | 82 | 83 | | 165 | |
| MC | C | Kemp | James | Pensacola | FL | 82 | 83 | | 165 | |
| MC | C | Badz | Aaron | St. Augustine | FL | 78 | 88 | | 166 | |
| MC | C | Meade | Cory | Lakeland | FL | 85 | 82 | | 167 | |
| MC | C | Vaugh | Keegan | Myrtle Beach | SC | 84 | 83 | | 167 | |
| MC | C | Hunt | Tim | Ocala | FL | 81 | 86 | | 167 | |
| MC | C | Stapleton | Richard | Marietta | GA | 79 | 89 | | 168 | |
| MC | C | Greenplate | Evan | Hiltonhead | SC | 85 | 84 | | 169 | |
| MC | C | Robinson | Harrell | St. Augustine | FL | 81 | 88 | | 169 | |
| MC | C | Trimble | Hunter | Tullahoma | TN | 86 | 83 | | 169 | |
| MC | C | Sakchawanpob | Natthawat | Jacksonville | FL | 86 | 87 | | 173 | |
| MC | C | Symonds | Reese | Palatka | FL | 90 | 84 | | 174 | |
| MC | C | Barnes | Jackie | St. Augustine | FL | 87 | 97 | | 184 | |
| MC | C | Thuraisangham | Jayden | Parkland | FL | 89 | 96 | | 185 | |
| | C | Knight | Michael | Clarksville | TN | 77 | | | WD | |
| | C | Hudgens | Thad | Longwood | FL | 81 | | | WD | |
| | C | Deitimer | Danny | Melborne | FL | 85 | | | WD | |
| | C | Shifflett | William | Baltimore | MD | 84 | NC | | WD | |
| | C | Weber | Michael | Burlington | CAN | 76 | WD | | WD | |
| | C | Whitaker | Bradley | Kensinton | MD | WD | | | WD | |
| | C | Bavaro | Nicholas | Park Ridge | IL | WD | | | WD | |
| | C | Blanchard | EJ | Madison | MS | 78 | WD | | WD | |
| | C | Brake | Adren | Green Cove Springs | FL | WD | | | WD | |
| | C | Carpenter | Lucas | Tampa | FL | 75 | WD | | WD | |
| | C | Crews | Michael | Ocala | FL | WD | | | WD | |
| | C | Kimbrough | Adric | Nashville | TN | WD | | | WD | |
| | C | McGriff | William | Ponte Vedra Beach | FL | WD | | | WD | |
| | C | Mulvey | Connor | Chicago | IL | WD | | | WD | |
| | C | Norman Jr | Greg | Jupiter | FL | DNS | | | DNS | |
| | C | Rodriguez | Chico | Charlston | SC | WD | | | WD | |
| | C | Slayden | Kevin Sr | Ponte Vedra Beach | FL | WD | | | WD | |
| | C | Stevenson | Brody | St. Augustine | FL | 75 | WD | | WD | |
| | C | Terry | Ryan | Nashville | TN | 77 | WD | | WD | |
| | | | | | | R1 | R2 | R3 | T | |
| | | | | | | | | | | |
| | 1 | Haire | Shane | Jacksonville | FL | 77 | 75 | 80 | 232 | 500 |
| | 1 | Conkey | Douglas | Orange Park | FL | 76 | 77 | 81 | 234 | 350 |
| | 1 | Ellison | Mike | Jacksonville | FL | 79 | 79 | 77 | 235 | 300 |
| | 1 | Dehart | David | Palatka | FL | 75 | 81 | 85 | 241 | 250 |
| | 1 | Smith | Reid | Chattanooga | TN | 79 | 81 | 83 | 243 | 200 |
| | 1 | Harvey | Tom | Punta Gorda | FL | 81 | 81 | 85 | 247 | |
| | 1 | Orr | Peter | Punta Gorda | FL | 82 | 91 | 76 | 249 | |
| | 1 | Elliott | Farren | Lavonia | GA | 87 | 86 | 80 | 253 | |
| | 1 | Burr | Chris | Davie | FL | 83 | 85 | 88 | 256 | |
| | 1 | Mixson | Mike | Chattanooga | TN | 88 | 89 | 79 | 256 | |
| | 1 | Baylor | Matt | St. Pete | FL | 84 | 82 | 93 | 259 | |
| | 1 | Frank | Jeff | Punta Gorda | FL | 92 | 83 | 88 | 263 | |
| | 1 | Bain | John | Miami Spings | FL | 78 | 85 | NC | NC | |
| | 1 | Lunsford | Larry | Orange Park | FL | 82 | 89 | NC | NC | |
| | 1 | Kegley | Mark | Miami Springs | FL | 83 | 90 | NC | NC | |
| | 1 | Mixson | Jacob | Chattanooga | TN | 96 | 97 | NC | NC | |
| | 1 | Page | Travis | Moore Haven | FL | 79 | | | WD | |
| | | | | | | | | | | |
| | | | | | | R1 | R2 | R3 | T | |
| | 2 | Deans | J.D | Orange Park | FL | 78 | 83 | 88 | 249 | 500 |
| | 2 | Harvey | Scott | Punta Gorda | FL | 84 | 84 | 81 | 249 | 350 |
| | 2 | Colbert | Jim | Orlando | FL | 81 | 85 | 85 | 251 | 300 |
| | 2 | Odom | Clint | St. Augustine | FL | 80 | 86 | 86 | 252 | 250 |
| | 2 | McComiskey | Mark | Punta Gorda | FL | 86 | 83 | 85 | 254 | 200 |
| | 2 | Hensler | Doug | Concord | NC | 83 | 87 | 84 | 254 | |
| | 2 | McCloskey | Khris | St. Augustine | FL | 81 | 91 | 82 | 254 | |
| | 2 | Marlow | Jimmy | Punta Gorda | FL | 91 | 82 | 83 | 256 | |
| | 2 | Orr | Kevin | Palatka | FL | 85 | 83 | 91 | 259 | |
| | 2 | Elledge | Jeff | Palatka | FL | 88 | 85 | 91 | 264 | |
| | 2 | Skidmore | John | Palatka | FL | 88 | 89 | 87 | 264 | |
| | 2 | McCoy | Art | Punta Gorda | FL | 87 | 91 | 93 | 271 | |
| | 2 | Carter | David | Palm Coast | FL | 94 | 94 | 85 | 273 | |
| | 2 | Durscher | Kevin | Grandin | FL | 89 | 98 | 95 | 282 | |
| | 2 | Polito Jr. | Paul | Fort Lauderdale | FL | 93 | 86 | NC | NC | |
| | | | | | | | | | | |
| | | | | | | R1 | R2 | R3 | T | |
| | 3 | Derrick | Martin | Coconut Creek | FL | 78 | 75 | 83 | 236 | 500 |
| | 3 | Thompson | Rick | Sharpsburg | GA | 75 | 83 | 84 | 242 | 325 |
| | 3 | Perkins | David | Welaka | FL | 80 | 78 | 84 | 242 | 325 |
| | 3 | Berhane | Tsegai | Davie | FL | 82 | 84 | 91 | 257 | 250 |
| | 3 | Klosterman | Mike | Orange Park | FL | 85 | 86 | 83 | 254 | 200 |
| | 3 | Moody | Jim | Palatka | FL | 84 | 88 | 91 | 263 | |
| | 3 | Register | Gary | Palatka | FL | 84 | 91 | 87 | 262 | |
| | 3 | Passini | Pat | Parire Du Sac | WI | 91 | 84 | 92 | 267 | |
| | 3 | Parker | Rick | Welaka | FL | 89 | 90 | 96 | 275 | |
| | 3 | Symonds | Rendel | Palatka | FL | 91 | 89 | 90 | 270 | |
| | 3 | Barton | Carl | Orange Park | FL | 90 | 92 | 90 | 272 | |
| | 3 | Russel | Rocky | Atlantic Beach | FL | 96 | 89 | NC | NC | |
| | 3 | Fils'aime | Auggie | Miami Springs | FL | 97 | 90 | 83 | 270 | |
| | 3 | Heider | George | Miami Springs | FL | 87 | | | WD | |
| | | | | | | | | | | |
| | | | | | | R1 | R2 | R3 | T | |
| | 4 | Mullis | Ron | Palatka | FL | 80 | 86 | 86 | 252 | 500 |
| | 4 | Rossen | Tappy | Miami Spings | FL | 85 | 89 | 88 | 262 | 350 |
| | 4 | Picard | Daniel | Palatka | FL | 85 | 88 | 91 | 264 | 300 |
| | 4 | Harrison | Paul | Miami Springs | FL | 85 | 89 | 91 | 265 | 250 |
| | 4 | Wilson | Marcus | Ft Lauderdale | FL | 83 | 90 | 95 | 268 | 100 |
| | 4 | Norell | Rob | Plantation | FL | 98 | 87 | 83 | 268 | 100 |
| | 4 | Feltner | Doug | St. Aug Beach | FL | 88 | 85 | 96 | 269 | |
| | 4 | Pasquale | Ciazza | Plantation | FL | 90 | 93 | 86 | 269 | |
| | 4 | Knight | Damian | Jacksonville | FL | 90 | 96 | 94 | 280 | |
| | 4 | Symonds | Rodney | Palatka | FL | 99 | 88 | 95 | 282 | |
| | 4 | Jerin | Ron | Palatka | FL | 93 | 96 | 98 | 287 | |
| | 4 | Florio | Steve | Miami Springs | FL | 87 | 92 | NC | NC | |
| | 4 | Polito Sr. | Paul | Fort Lauderdale | FL | 89 | 90 | NC | NC | |
| | 4 | Luke | Bill | Palatka | FL | 87 | 96 | NC | NC | |
| | 4 | Deno | Michael | Miami Springs | FL | 97 | 92 | NC | NC | |
| | 4 | Deno jr | Michael | Miami Springs | FL | 103 | 99 | NC | NC | |
| | | | | | | | | | | |
| | | | | | | R1 | R2 | R3 | T | |
| | 5 | Kielton | Greg | Plantation | FL | 92 | 84 | 96 | 272 | 500 |
| | 5 | Berhane | Bennett | Davie | FL | 96 | 85 | 92 | 273 | 350 |
| | 5 | Bennett | Lucas | Palatka | FL | 87 | 94 | 97 | 278 | 300 |
| | 5 | Mutchie | Bill | Palatka | FL | 97 | 99 | 92 | 288 | 250 |
| | 5 | Fitzgerald | Jimmy | Plantation | FL | 100 | 97 | 98 | 295 | |
| | 5 | Dexter | Robert | Plantation | FL | 103 | 91 | 106 | 300 | |
| | 5 | Hensler | Ted | Snellville | GA | 121 | 113 | 106 | 340 | |
| | 5 | Kesler | Fred | Delray Beach | FL | 86 | 99 | NC | NC | |
| | 5 | Kegely | Mike | Miami Spings | FL | 92 | 97 | NC | NC | |
| | 5 | D'andrea | Nick | Davie | FL | 99 | 96 | NC | NC | |
| | 5 | Zambrano | Steve | Miami Springs | FL | 98 | 99 | NC | NC | |
| | 5 | Zumbar | Jeff | Palatka | FL | 104 | 98 | NC | NC | |
| | 5 | Cox | Davd | Palatka | FL | 105 | 102 | NC | NC | |
| | 5 | Dennis | Steve | Palatka | FL | 105 | 105 | NC | NC | |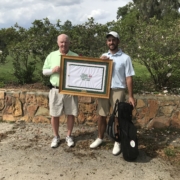 Ryan Terry
2020 FL Amateur Azalea Champion
Mike Ellison
2020 1st Flight FL Azalea Amateur Champion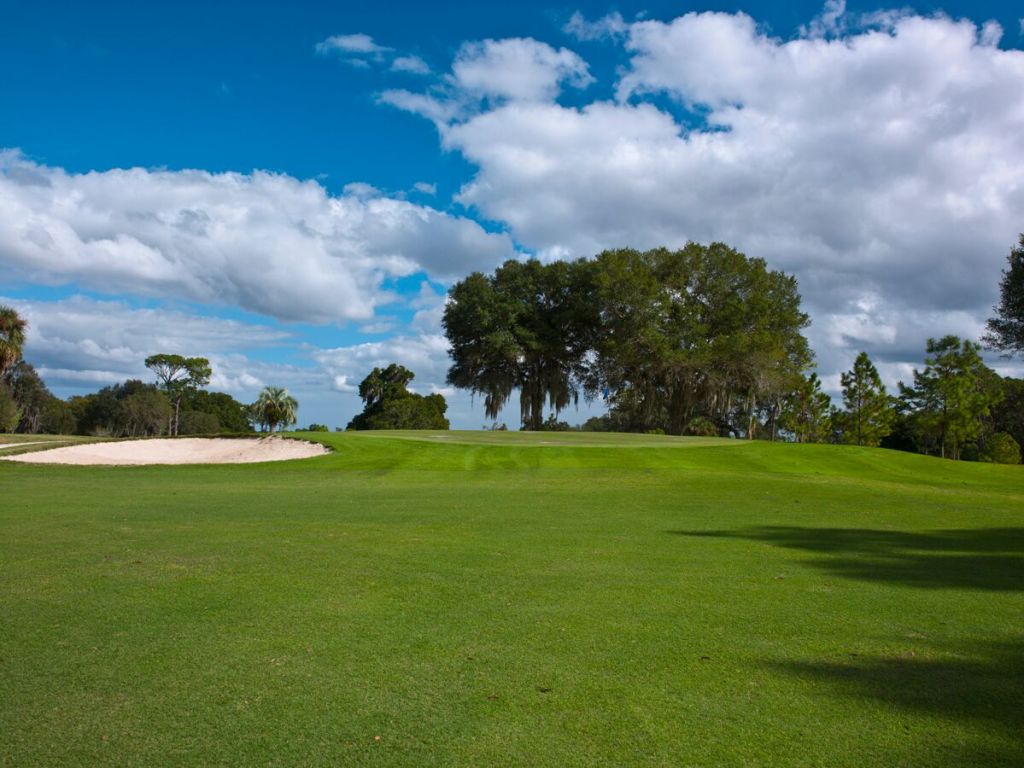 ---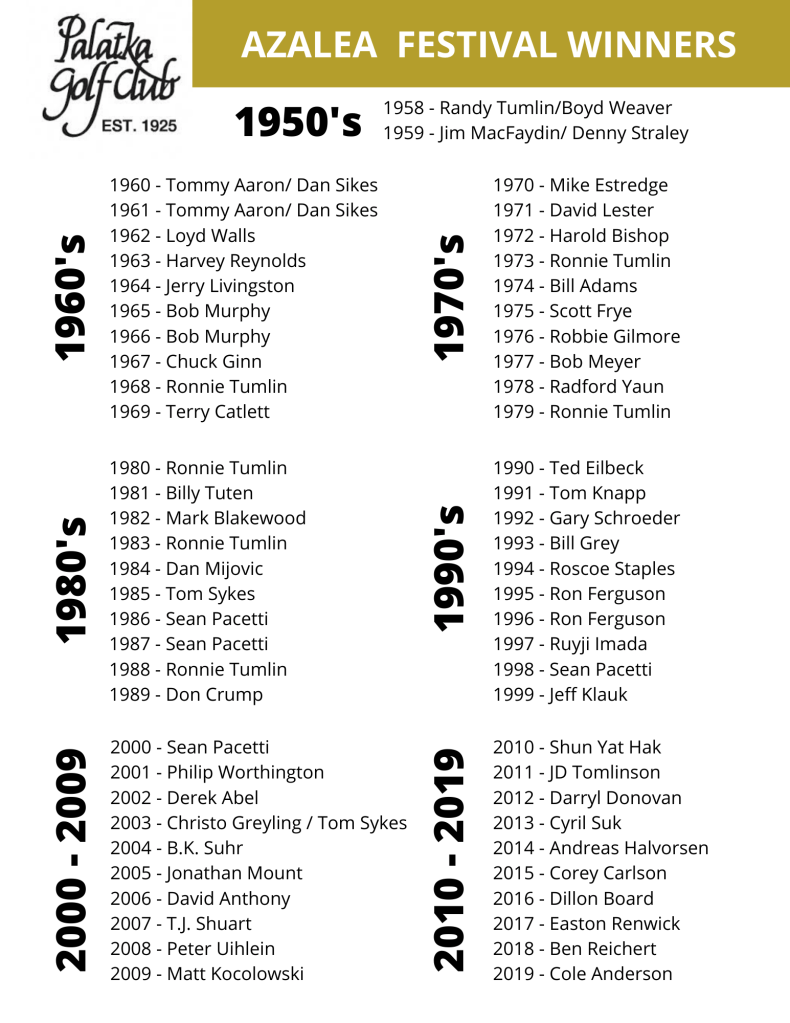 ---
PALATKA – AZALEA HOTELS
For those wishing to stay less than 5 minutes from the course, try these hotels!
Sleep Inn and Suites
3805 Reid St. Palatka, FL 32177 Tel:  
1-386-325-8889
Hotel website
Holiday Inn Express
3813 Reid St. Palatka, FL 32177 Tel:  
1-386-325-2500
Hotel website
Best Western
119 S. US Highway 17 East Palatka, FL 32131 Tel: 
1-386-325-7800
Hotel website
ST. AUGUSTINE BEACH
About 40 minutes from the course, right on the beach!
Hampton Inn St. Augustine Beach
430 A1A Beach Blvd. Saint Augustine, Florida, USA 32080 Tel:  
1-904-471-4000
Hotel website

HISTORY
Begun in 1958 as a two-man team tourney, the Azalea field has over the years boasted players who have gone on to greatness at the next level. Tommy Aaron, who teamed with Dan Sykes for the 1960 Azalea team title, went on to win the 1973 Master's championship. Bob Murphy, winner of back-to-back Azalea titles while playing for the University of Florida golf team in 1965-66, was an 11 time winner on tour and is currently a golf analyst for NBC.